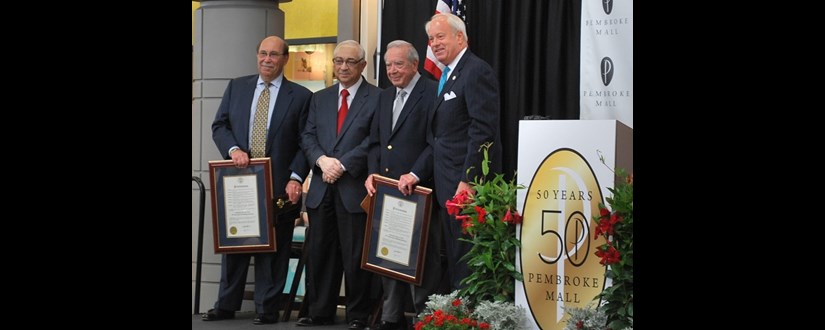 Pembroke Mall Celebrates 50th Anniversary
May 23, 2016 2:00 PM
It was the age of miniskirts and the Beatles. It was a time of protests and love-ins. The Sound of Music had just won an Oscar for Best Picture. The year was 1966, and Virginia Beach was making its own brand of history when it opened Hampton Roads' very first indoor shopping venue, Pembroke Mall.

Today, some 50 years later, Pembroke Mall continues to thrive not only as the place to find great shopping, dining and entertainment, but also as the place to bring the entire family and enjoy special events and programming that takes place throughout the year.

On Wednesday, May 18, Mayor Will Sessoms, Councilman Jim Wood, Councilwoman Rosemary Wilson, Councilwoman Shannon Kane, and School Board members Beverly Anderson and Carolyn Rye, joined the Napolitano and Olivieri families, along with CBDA members, guests and mall-goers in recognizing this momentous occasion.

During his remarks, Fred Napolitano shared with the audience the historical significance and efforts made to preserve the Pembroke Manor house, which was built in 1764 and stood on the property at the time of purchase. Fred and Richard Olivieri were true pioneers in the mall business, developing the 16th mall in the country, with the nearest being in Cherry Hill, New Jersey. Anchored by Sears and Miller & Rhodes, the mall once featured a grand fountain in center court where people gathered and black tie dances were held. Fred fondly reminisced that Pembroke Mall was not only the place to shop, but it also was the place to be seen!

Today, the mall is the 11th oldest in the country. 2016 has been an exciting year following recent mall renovations, and the opening of Nordstrom Rack, Fresh Market, DSW, and REI.

CBDA Executive Director Jeanne Evans-Cox hosted the event during which Mayor Sessoms presented Fred, Richard, and Vincent Olivieri with an official city proclamation and the key to the city. The Princess Anne High School String Quartet opened the ceremony and the school's NJROTC Color Guard presented the colors. The National Anthem was performed by Shelly Milam-Ratliff. Following the official ceremony, guests enjoyed a luncheon reception in the mall.

Many thanks to Pembroke Mall's staff Mary Stott, Mark Sandy and Alyssa Valdez for organizing and executing an outstanding event.

Click here to see photos from Pembroke Mall's 50th Anniversary Celebration.