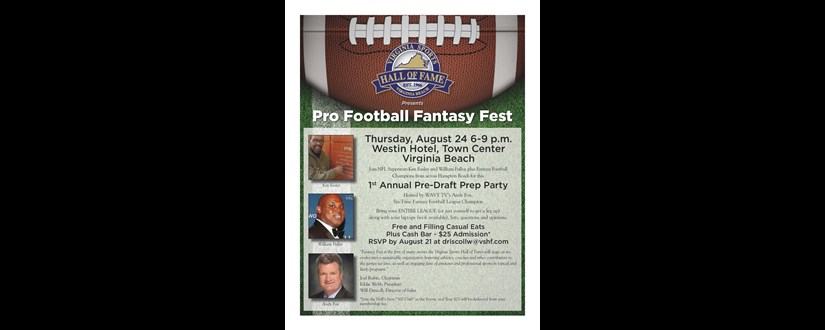 Virginia Sports Hall of Fame Pro Football Fantasy Fest - Thursday, August 24, 6-9 PM @ The Westin
August 21, 2017 2:38 PM
Virginia Sports Hall of Fame Launches Its New Model with Pro Football Fantasy Program on August 24 at Town Center in Virginia Beach
When late August rolls around, the minds of thousands of pro football fans turn to their fantasy drafts and what strategies to employ and what players to pick.
Advice from former pro athletes and past fantasy league champions is valuable. That's why the Virginia Sports Hall of Fame will stage Pro Football Fantasy Fest on Thursday August 24 from 6-9 pm at the Westin Hotel in Town Center. It will be the first of many interactive and topical sports events to be produced by the Hall of Fame, which is changing from a museum to a programming model.
Hosted by WAVY-TV's Andy Fox, a six-time fantasy football league champion, it will feature appearances by Virginia Sports Hall of Fame inductees Kenny Easley (Seattle) and William Fuller (Houston, Philadelphia and San Diego). Both are Chesapeake natives and former All Pros. Easley will be inducted into the Pro Football Hall of Fame in early August.
"Fantasy Fest is the first of many events the Virginia Sports Hall of Fame will stage as we evolve into a sustainable organization honoring athletes, coaches and other contributors to the games we love as well as engaging fans of amateur and professional sports in topical and lively programs," says Virginia Sports Hall of Fame Chairman Joel Rubin. "There will not be any drafting that night. Rather it will be a fun opportunity for players to share their passion and increase their chances of having a successful team."
Pro Football Fantasy Fest is open to the public, and fantasy league commissioners are urged to invite all of their participants. Admission is $25.00 per person, and seating is limited. Guests should RSVP by August 18 to: Will Driscoll at driscollw@vasportshof.com
Payments, cash, check or credit card, will only be taken at the door. Groups wishing to reserve a table of 10 must pay in advance, which can be arranged by emailing the sales director. Casual dinner food will be included with the price of admission, and a cash bar will be available throughout the evening.
Attendees at the Fantasy Fest will have the opportunity to recoup their admission fee by joining The Virginia Sports Hall of Fame's new membership initiative called The 300-Club. For $300, sports enthusiasts will earn discounts to VSHF programs and at participating merchants in the Central Business District.
For More Information, Contact Will Driscoll @ VSHF 757-348-1929