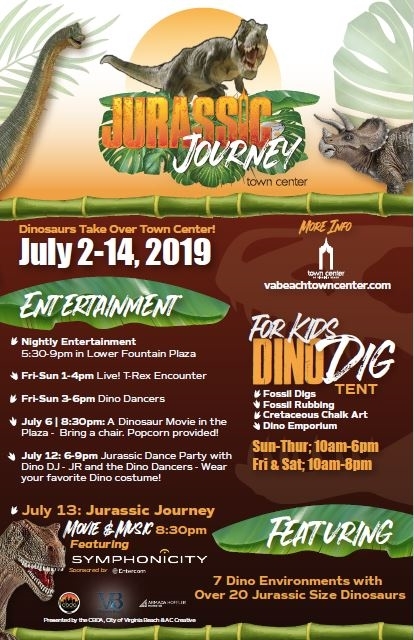 Jurassic Journey at Town Center
Tuesday, July 2, 2019 at 10:00 AM to Sunday, July 14, 2019 at 9:00 PM | At Town Center Fountain Plaza
Prepare to be transported to a place of wonder and prehistoric discovery as you journey through Town Center during our brand new two-week experience, "Jurassic Journey."  Featuring 20 life-like Dinosaur exhibits, nightly entertainment, LIVE! "TC-Rex" encounters, movie nights, dance parties, dig tents, interactive activities and more!  This Dino-Mite experience is sure to captivate dinosaur fans - big or small, young or old.  Exhibits are open all day.  Free and open to the public.  See schedule below. 
Dinosaur Exhibits
Traverse Town Center by foot and discover over 20 life-like Dinosaur exhibits.  During this self-guided tour, you will learn about different dinosaurs, time periods, fun facts and more!! Grab a map at the Dig Tent and complete your Dino Questionnaire for some Jurassic Deals in Town Center.
Dino Dig Tent  - Fossil Digs, Fossil Rubbings, Cretaceous Chalk Art, Dino Emporium
Children and adults alike can unearth million year old secrets just like a real paleontologist as they dig for fossils, experience fossil rubbings and enjoy some chalk art.  Don't forget to check out the Dino Emporium for some special treasures to take home.  
Sun - Thurs 10 am -6 pm
Fri & Sat 10 am - 8 pm
Nightly Fountain Plaza Entertainment
Each evening the Fountain Plaza comes alive with entertainment.  A little jazz...a little country...we have it all!
5:30 - 9 pm in Lower Fountain Plaza
Live! TC-Rex Encounter
Have you ever met a real dinosaur?  Come meet TC REX.  Take photos, touch and hang out during TC-Rex's appearances.  
Fri - Sun 1-4 pm 
Dino Dancers
Do you like to dance?  So do dinosaurs!  Come have some fun in the plaza and dance along with our Dino dancers!
Fri - Sun 3-6 pm 
A Dinosaur Movie in the Plaza
An outdoor dinosaur movie in the plaza.  Huge movie screen, free popcorn and lots of fun! 
July 6 @ 8:30 pm - Bring a chair! Popcorn provided!
Jurassic Dance Party
Join Dino DJ-JR and the Dino Dancers for a party in the plaza.  Wear your favorite Dino costume to join the fun! (costume not required to participate)
July 12 @ 6 pm-9 pm  Jurassic Dance Party with Dino DJ- JR and the Dino Dancers -
JURASSIC JOURNEY MOVIE & MUSIC with Symphonicity 
Symphonicity will be joined by Ballet Virginia International for a special children's presentation of "Jurassic Journey".
In this 45-minute presentation that features a full, live orchestra, audience members will be taken back in time through orchestral music to the prehistoric age of green moss, misty meadows and mega-dinosaurs. Ballet Virginia International dancers, special lighting and engaging graphics will add visual context to the musical adventure. Additionally, there will be a special sing-along!  Bring your chair or blanket and enjoy a Jurassic Concert in the Plaza.
Sponsored by Entercom Virginia
July 13 @  8:30 pm - Lower Fountain Plaza 
DINO-MITE DEALS:
Give your inner dino a treat! Select Town Center businesses are offering discounts to those attending Jurassic Journey.
Bravo! Cucina Italiana - Dinosaur coloring pages, free dinosaur figure with purchase of a Kids Meal, Special Dino Drinks available! 
Tupelo Honey - Free Dino Kids Meal with purchase of Adult Entree (limited quantities available)
Cold Stone Creamery - Free Kids Cone with the purchase of a LOVE IT or GOTTA HAVE IT size creation
YMCA at Town Center: No joining fee (savings of $50-$75)
Lamia's Crepes: 10% off any purchase
The Royal Chocolate: 10% discount on regular priced products and FREE Birnn Truffle with $10 or more purchase
Disclaimer: Must mention the "Jurassic Journey" special upon placing your order/making a purchase. Discount valid from July 2-14, 2019. Discount valid on regular priced items only. Not to be combined with any other discount or special offer. One coupon, per person. 
Things To Know Before You Go:
Outdoor exhibits are a self-guided tour and are open daily, rain or shine!
No ticket or reservation necessary
The City of Virginia Beach provides free parking in all of their public garages in Town Center. We recommend utilizing garage parking for this event.
Check Facebook daily for any event news!
Sponsors:
A special thank you to our presenting sponsor, Armada Hoffler Properties!
Produced by CBDA, the City of Virginia Beach and AC Creative
Jurassic Journey concert event sponsored by Entercom Virginia
 CLICK HERE TO VISIT OUR FACEBOOK PAGE AND SEE TC REX TOUR TOWN CENTER