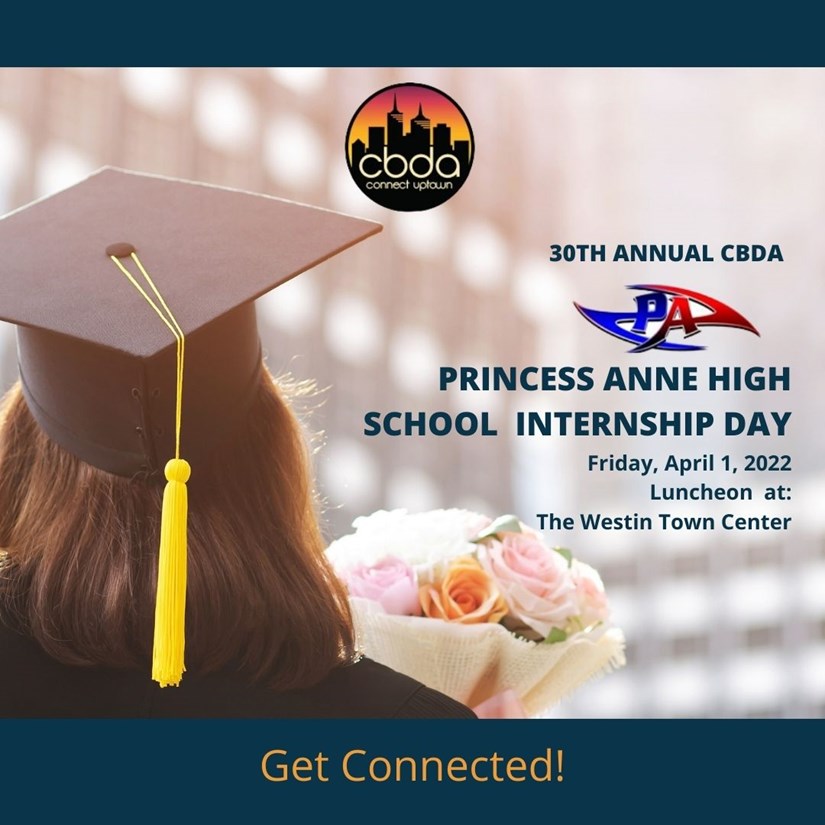 Princess Anne High School Internship Day Luncheon
Friday, April 1, 2022 at 12:00 PM to 1:15 PM
Join us for CBDA's 30th Annual Internship Day with Princess Anne High School and Special Guest Speaker
This wonderful annual event has grown from 20 students to over 120!  Working with PAHS staff and matching students with CBDA companies is the highlight of Princess Anne High Schools school year and ours!  
CBDX (Our under 40 professionals) carefully and methodically select the CBDX Scholarships including the Alex P. Divaris Memorial Scholarship…..a young man who left an indelible mark in our community.  This scholarship is awarded annually to a student who not only excels academically, but who shows a strong commitment and desire to take an active role in the community.
We are excited to announce our Special Guest Speaker ANDY FOX of Wavy TV for our 30th Annual CBDA Princess Anne High School Internship Day!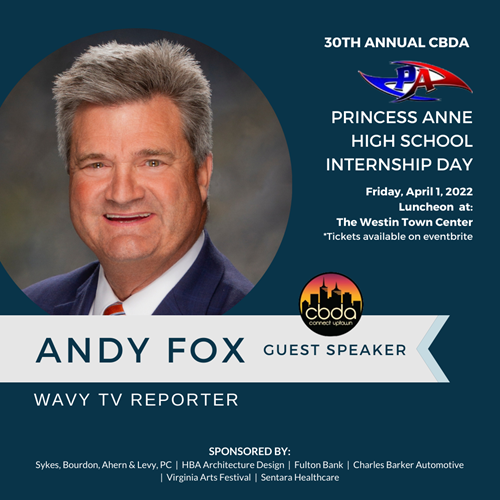 * Student Hosts, please purchase your Students ticket before 03/25/22
---
About this event
ALL attendees to the the luncheon at The Westin, must be registered and have a ticket to enter this event
If you are purchasing tickets for a group, please choose/create (group)and include all information for each attendee.
Internship Day is a longstanding partnership between CBDA businesses and Princess Anne High School, when students are selected through a competitive application process to spend the morning in a CBDA business in their career field of interest. The program continues to be an enormous success, rewarding for both the businesses and the students. Over the years, several students have been offered summer internships and even full time employment with the CBDA companies with which they interned.
=====
SCHEDULE:
7:30am: Host/representative pickup assigned student at Princess Anne High School Brief remarks by PAHS Principal *Please have your ID in hand to enter the schools premises*
8:00am: Depart School w/ student to your place of business
11:30am: Host/representative go to Town Center Westin.
12:00pm: Welcoming remarks/introduction of special guests by CBDA
12:15pm: Lunch
12:30pm: Remarks by special guest speaker Andy Fox - WAVY TV
1:00 pm: Presentation of CBDX Scholarships
1:15pm: School busses return students to Princess Anne High School
=====
MENU:
Teriyaki Chicken, Snow Peas, Red Pepper, Carrot, Sesame Ginger Dressing, Oriental Noodles, Sliced Almonds. Dessert and Drinks included.
=====
SPONSORED BY:
Sykes, Bourdon, Ahern & Levy, PC
HBA Architecture Design
Fulton Bank
Charles Barker Automotive
Virginia Arts Festival
Sentara Healthcare