Last Night On The Town Sponsorships
The City of Virginia Beach's premier New Year's Eve event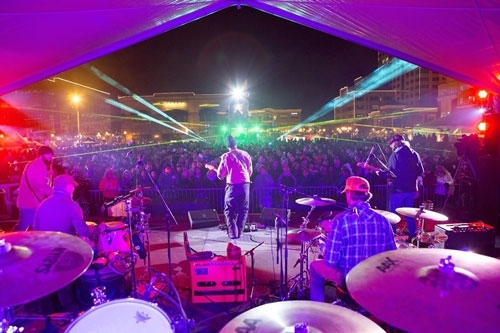 As you know, we have not produced this spectacular New Year's Eve event for 2 years due to the pandemic!
But we are back!!! 
The VIP tent is stageside on Columbus Street.   Bar, complimentary select drinks, entertainment, photo opportunity and visit by the Deloreans, spectacular food, 80's theme and more.  Come in costume and win a gift certificate to a great town center restaurant. 
Below are the links with the various levels of sponsorships.  The links below go directly to our website for easy payment. The prices remain the same as last year.
Sponsorship Levels
About The Event
In 2012 CBDA members and local stakeholders established the first city-wide New Year's Event of it's kind at Town Center and Pembroke Mall. Now in it's 9th year, this event is one of the largest New Year's Eve parties on the east coast. CBDA is proud to host this annual event in partnership with the City of Virginia Beach.
Each year, the festivities kick off mid-afternoon at Pembroke Mall with family entertainment including a children's countdown and balloon drop at 5:00 PM. The fun continues throughout the night at Town Center with live music on multiple stages. Past headline acts include the Gin Blossoms, Eddie Money, Cherry Poppin' Daddies, and Smash Mouth, Switchfoot and The Deloreans. A midnight countdown with a spectacular laser light show, and Virginia Beach Ball Drop ring in the New Year. All activities and entertainment are free and open to the public, with food and adult beverages available for purchase. A separate, ticketed VIP Celebration hosted by the Central Business District Association is held stage-side in a heated tent, providing VIP guests with the best seat in the house!  Town Center and Pembroke merchants, hotels and restaurants offer New Year's Eve rates and specials.
WVEC-TV and BOB FM broadcasts live from the event. Free parking is available for all attendees in the Town Center garages and at Pembroke Mall.
For more information visit lastnightonthetown.com or contact CBDA at connect@cbda.net.