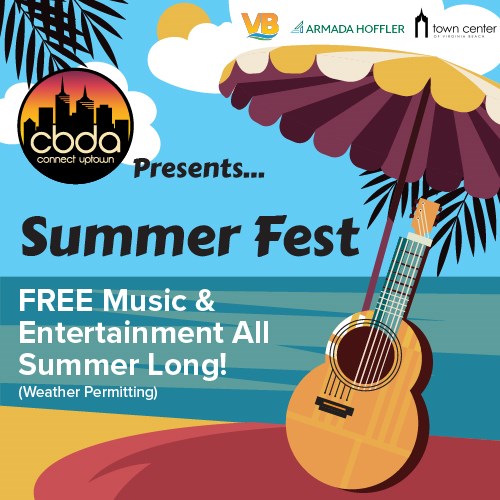 Summer Fest at Town Center - May
Date:
May 26 to September 3, 2023
Location:
Town Center Fountain Plaza
It's Summer Fest at Town Center! FREE nightly entertainments begins Friday, May 26th from 5:30 - 8:30 in the Town Center Fountain Plaza. Listen to some of your favorite local musical artists beginning with "Frank Sings Frank" on May 26th and throughout the summer. Enjoy the free music and celebrate date night in one of our many Town Center restaurants.
To learn more and see the full schedule, visit https://www.cbda.net/events/summer-fest-2023
May Schedule:
Fri. 5/26 Frank Sings Frank
Sat. 5/27 The Taylors
Sun. 5/28 The Doorway Singers
Mon. 5/29 The Doorway Singers
 =================
Know Before You Go:
Parking and WIFI are FREE IN TOWN CENTER. We recommend garage parking. Be mindful of on-street parking time limitations. In inclement weather, all outdoor entertainment may be cancelled. This event is provided for your enjoyment by the businesses of Town Center of Virginia Beach, Armada Hoffler Properties, and the City of Virginia Beach. Produced by the Central Business District Association.
Date:
May 26 to September 3, 2023
Location:
Town Center Fountain Plaza